Douglas Fishbone
Bananas
(Photographs / Fotogafías)
In August of 1999, I mounted an interactive installation in the Banco Central in Cuenca, Ecuador, consisting of a giant mound of about 25,000 bananas. The bananas were piled up in the center of the bank's plaza... / En agosto de 1999, coloqué en el Banco Central de Cuenca, Ecuador, un montaje interactivo que consistió en una enorme pila de unos 25.000 plátanos. Se apilaron los plátanos en medio de la plaza del banco...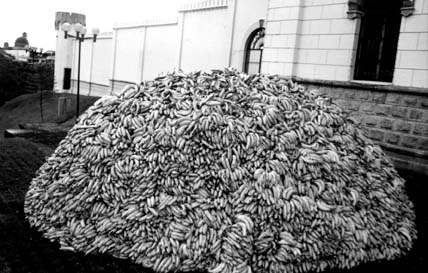 ©Douglas Fishbone
...and then given away to the crowd. / ...y despues se regalaron a las multitudes.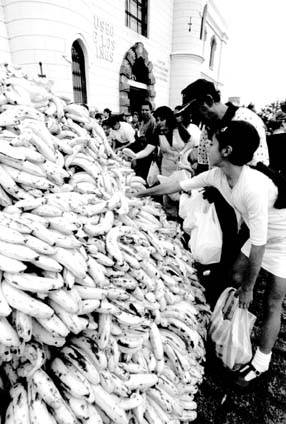 ©Douglas Fishbone
Within an hour the work had vanished completely. / En una hora el trabajo había desaparecido por completo.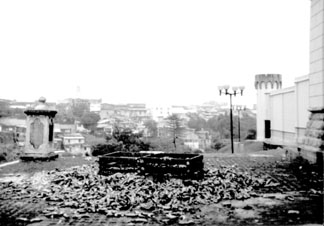 ©Douglas Fishbone
The installation is meant as a critique of some of the more violent aspects of globalization and contemporary consumer capitalism. A symbol of the natural wealth of the developing world, and a metaphor for its financial reserves as an externally controlled export commodity, these bananas point to the fragility of economies like Ecuador's, which depend almost entirely on natural resources for survival. / El montaje supone una crítica de algunos de los aspectos más violentos de la globalización y el capitalismo consumista hoy en día. Como símbolo de la riqueza natural de los países en desarrollo, y una metáfora de sus reservas financieras como un producto de exportación controlado por fuera, esos plátanos señalan la fragilidad de economías como la de Ecuador, que dependen casi únicamente de los recursos naturales para sobrevivir.
Douglas Fishbone is a sculptor and conceptual artist living in New York and London. His work using impermanent materials and processes has been widely exhibited in the U.S., Latin America, and Europe, and has been featured in numerous publications around the world, most recently in the book The Banana Sculptor, the Purple Lady, and the All-Night Swimmer (Simon and Schuster 2002). He is currently pursuing a graduate degree at Goldsmiths College, University of London.
Si quieres participar con tu obra gráfica lee las Normativas de Colaboración
If you would like to submit visual work, please read our Submission Guidelines